hey guys! i was wondering if you know of any good online stores that sell candles or soaps with autumn scents? i've been googling all evening, but it's hard to tell if they're good just by looking at the pictures. i live outside of america, so if you know any sites that ship internationally - please share! i'm dying to make my apartment cozy and autumn-y, and sweden has nothing when it comes to scented soaps and candles. ♥
All right autumn Addicts... I'm afraid this post may get me laughed off the Internet but I'm just brash enough to take the risk. I strolled back through the archives to find some good fall literature, and now that I'm armed with the classics (can you believe I've never before read Sleepy Hollow?), I'm here to ask if anyone has any autumn recommendations for romance novels... ya know, (a little bit haunted) hayrides with a heavy dose of flirtatious whimsy, intrigue over cups of tea by the fire, stuff that you read furtively when your more literary savvy (snobby?) friends aren't looking... anything? Is there a Harliquin "autumn love" genre? I'd love to hear any recommendations you're willing to admit (anonymous comments are completely encouraged and understandable!).
Current Mood:

flirty


Do you have any special plans for this fall? Don't forget that it officially begins on September 22! I think I'll celebrate by making some pumpkin bisque and spending as much time outside as possible. I've already begun to decorate my apartment for the season, and I've put out some delicious-smelling pumpkin spice potpourri.

Happy early fall, everyone!
Autumn is almost here! I can feel it in the air. The evening shadows are getting deeper and the humidity is being replaced with a slight crispness. The leaves are just beginning to change color; I've seen bits of red and yellow here and there. Starbucks is offering their delicious pumpkin spice latte, stores have Halloween decorations up for sale, and fall festivals and pumpkin patches are being advertised.
this wreath
--I'm not sure I could've constructed it for that.
The wreath is something I can keep up from September to the end of November, so it definitely helps to stretch our decorating dollars. We'll also put out clusters of realistic looking
funkins
that I got on clearance last year, along with a pair of gold or orange potted mums at the base of the stairs.
So excited. Ordered our Fall/harvest wreath (below). Wanted something that looked classic but not country. And our front entrance door is black, so we need bright. All the premades I'd looked at were between $60 and $85. Too many people get diminutive wreaths (18 or 20") and it looks out of proportion on the average door. This one was 26" or 28" and $40. Would've liked 30" or larger, but couldn't get it. Honestly, after a trip to our craft store to price things out--I'd originally planned to make
- Haunted House (toasted marshmallow)
- Caramel Apple
- Jack-O-Lantern (sweet cinnamon pumpkin)
They also have little hand sanitizers in Vampire Blood, Spider's Web, Zombie Squad, Bat Bite and Candy Corn. Then there are the soap dispensers that are shaped like ghosts and pumpkins. I actually already have one of those from a couple years ago. It's in the shape of a ghost. I should get it out and refill it. Lastly, they have some fall-scented candles, too, but the thing I really want is this haunted house luminary. I love luminaries!
(
Check this out
Collapse
)
I'm already ridiculously excited for Halloween this year. My new roommate's birthday is around Halloween, and she loves fall as much as I do, so we're planning a Halloween party at our apartment. That luminary would make a great decoration.
Okay, that's all for now. Is anyone else already psyched for Halloween?
So I'm on the Bath & Body Works e-mail list. I get frequent notices of sales coming up and new products that are about to be released. Today I got an e-mail featuring the new Halloween scents, which are now available! Listen to the hand soap scents they have available:
Current Mood:

excited

Current Music:

"The First Cut is the Deepest," Sheryl Crow
i'm longing for autumn now. i think it's the evening sun hitting the trees, making the leaves dazzle in yellow. it's what makes me long for autumn. i want red. brown. orange. i want the air to smell of dirt and wet grass and rotting leaves. i want it to get dark at 8pm, and i want to curl up with a book and a cup of tea and a blanket. i want autumn.
I took some pictures while walking home from the doctor's a couple days ago.
I love this one because of the raindrop that is about to fall off.
(
A couple more.
Collapse
)
Current Mood:

excited
My mother's friend, who is a florist, had an autumn-themed showing of her work last week. I was absolutely blown away by her designs. And since it has everything to do with fall, I thought you might like to see some of it and maybe it will inspire you to try to do something like that yourself next time you're decorating for autumn. :)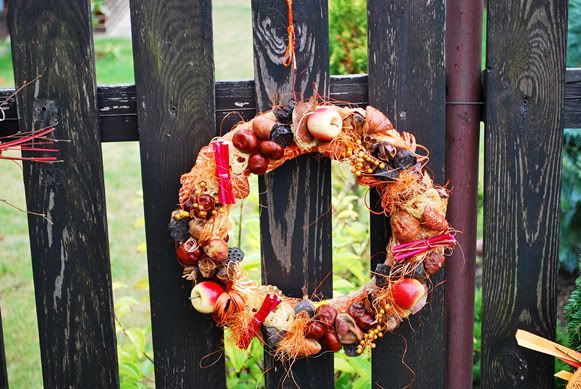 (
Pumpkins, apples, chestnuts, acorns.
Collapse
)
Current Mood:

giggly